Two Wheels Better
Moderator
It's begun. The requisite bits in the garage now are: an '89 K100RS frame,
complete
K1200RS engine (anyone need a six speed gearbox and bell housing?), complete K12 wiring harness, K1100 bell housing, K1100 gearbox, Paralever swingarm & K1100RS final drive, K100-16V Marzocchi forks, 3 row radiator, K100 petrol tank, front 3.5 x 17" & rear 5 x 17" five-spoke wheels, 305mm GS front brake discs, four-piston R1100GS calipers, '86 on K100 footpeg assemblies, exhaust, seat & miscellaneous other bits 'n' pieces, with the rest on the way, still being hunted down, or being spied on at current auctions, etc.
The idea is to put together, using as many stock BMW K bike parts (and from other BMWs) as is possible, a
minimalist
K100 standard with a generally relaxed seating/foot peg position, using a K1200 engine - hence the term big block, though we all know it ain't much bigger. It'll be a northern hemisphere Winter project. I'm not in a rush.
It's not meant to be a swift and sleek touring machine, a rakish sportsbike, a knobbly dualsport, a sit up and beg cruiser, or any sort of trendy café racer. Just a basic bike with a prominent engine, wheels with modern radial tyres, 'bars with a slight rise and pullback, and a comfy place to perch my derrière. Though I'm sure I'll flog it down to a café or two.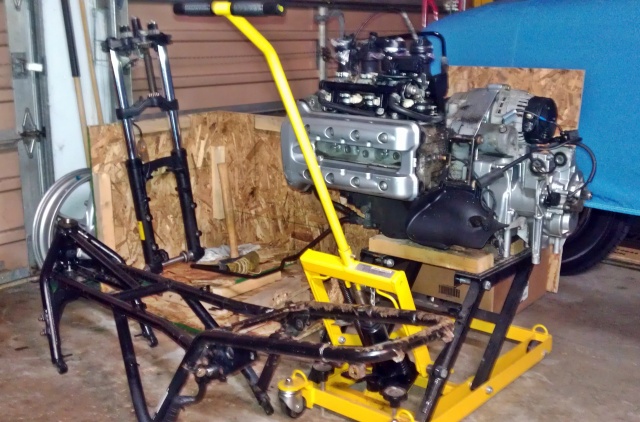 Let the midnight oil burn.


Last edited by Two Wheels Better on Sun Oct 26, 2014 5:02 pm; edited 1 time in total
__________________________________________________
1970 R60/5, '77 R75/7-R100, '85 K100, '87 K75C, '87 K100RS, '93 K11-K12 Big Block, '93 K1100RS, '95 R100-Mystic, '96 K1100RS, '98 K1200RS, '00 K1200RS, '02 K1200RS, '03 K1200GT, '04 R1150R, '04 R1150RT, '05 K1200S, '06 K1200R, '07 K1200R, '09 K1300GT, 2013 R1200RT-P & 2022 S1000XR
"We take our bearings, daily, from others. To be sane is, to a great extent, to be sociable."

~John Updike.