sidecar paul
Life time member
As there was no camping this week,
 I thought I'd fit some LED's in my speedos. I had already bought some green and blue ones from China.......well, at £2.42 for 10, post free, it's worth a punt!
They even list some pink ones......do we know anyone with a pink K?  
http://www.ebay.co.uk/itm/10X-T10-5-SMD-5050-LED-Bulbs-Side-Green-Light-194-168-W5W-LED-Wedge-Lamp-Bulb-B-/331209978944
As I bought 2 lots, green and blue, I got 10% extra for free.
 I added some blobs of red paint to indicate the +ve's.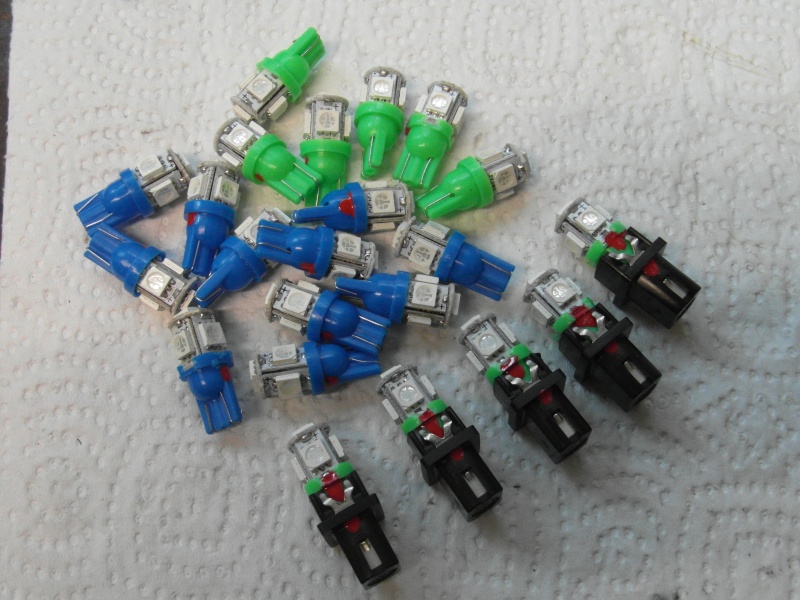 The only alteration needed is to trim the plastic holders with a sharp blade to fit into the rectangular holes in the speedo.
I thought it would be fun to have blue lights on my blue solo K.:geek: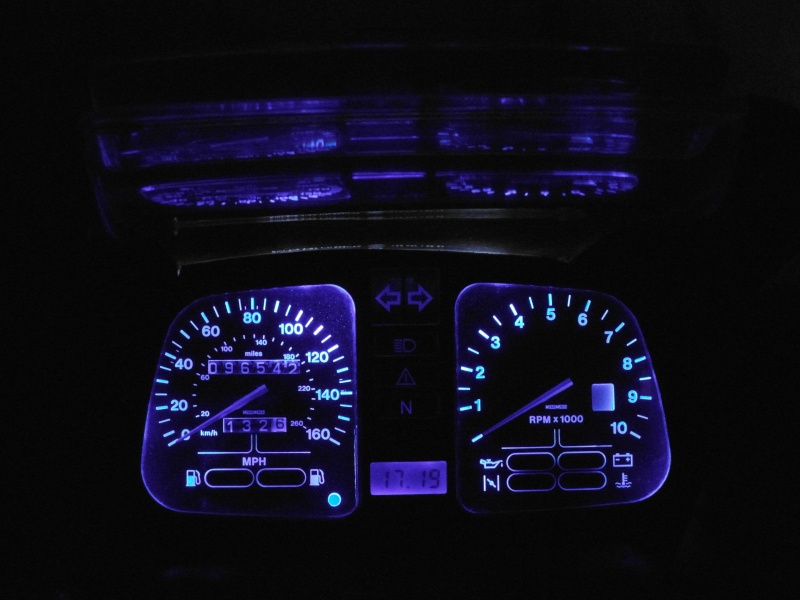 And green ones for the outfit (although I might change them at some time to white?) OCD rules!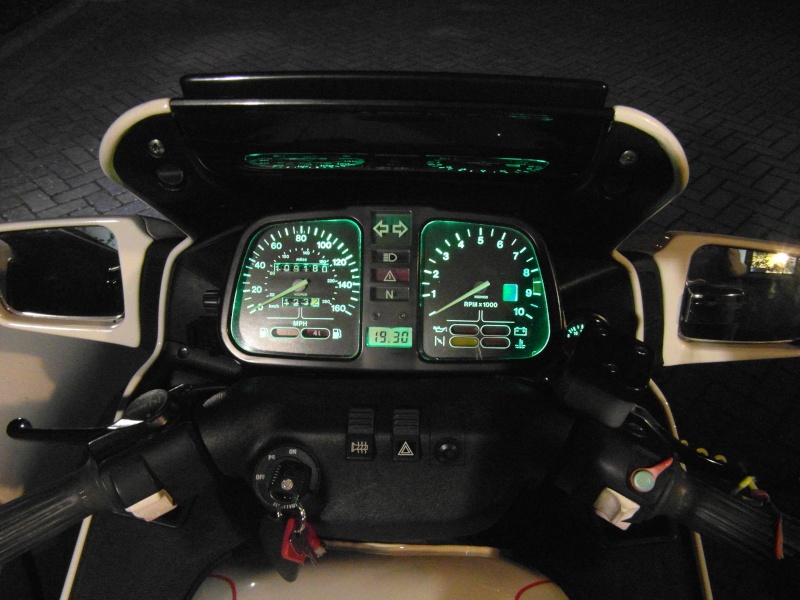 Of course, trying to photograph lights is always tricky, in real life they look better than the pictures.
I've only changed the 5 lights that illuminate the display and clock, the other lights are only on for a short time so I don't see any great advantage in changing them. Those 5, in standard form, consume 15 watts, most of which transforms to heat; that's a lot of heat in an enclosed housing. The LED's take 50mA each, so 250mA equates to 3 watts.
One point that had me puzzled for a while, is that the lower 3 lights get their earth from pin 13, and the upper pair get their earth from pin 18.........so when I applied 12v to one of the lower lamp holders, expecting all the 5 lights to come on, I was rather surprised that the uppers were not working. All sorted now though.
Cheers,
Paul.

__________________________________________________
'84 K100RS (0014643) (owned since '85), 86 K100RS (0018891) with Martello sidecar (built as an outfit in '88),
'51 Vincent (since '67),'72 Montesa Cota (from new), '87 Honda RS125R NF4 (bought 2015) 
....No CARS never ever!