Ed
Life time member
Well it's time to let it all out of the bag, as it is commonly said.
firstly it should be expressed a big thanks to all who contributed to this little project, the effort that went into this just shows how an individual character can have such an immense impact on those around them. 
It came as a blow to all early last year ,when our friend Sean indicated his intentions to take up foreign lodgings , and leave this strange Aussie Krew to wonder those endless roads alone.
The thought of allowing him to escape without  acknowledgement of his kamaraderie with fellow forum members and his contributions to this forum just could not go without recognition.
It was about the same time last year that Sean was using this image as his avatar 
It was also the same time that Wallace ( aka Seanii ) and Gromit ( aka Bella) and their sidecar also came onto the scene via ebay, so delivery was arranged .
 PM's were exchanged among various members and a project was devised and underway . Of course , how does one keep this K related. 
During the following 6 months a plan was designed and shared  . Gracious offers of labour and hard to find K parts were put forward, and what was to follow was a collaboration of parts swapping and assembling of bits and pieces to provide one of our valued members with a keepsake to remind him of the adventures and experiences with the Aussie Krew and the forum as a whole.
Strangely enough , many of these parts swapping meets were done in the presence of Sean and Bella ( Kerry and Seamus had not yet joined our Krew).
Nerrandera was the first exchange , our Victorian brothers bringing along the perspex shroud. the Kweenslanders also brought with them K100 badges to adorn the yet to be made base.
It was shortly after Sean and Bellas' incident on Thunderbolts Way that a meeting at Mount White for coffee procured an assortment of K parts to help Sean, Smithy and many others return the newly formed K Vader to the open road again.This was an opportune time to also gather the timber base ,which at this stage was ready for attachment of trimmings.
Other meetings including Spencer Store and the Putty helped with passing other necessary pieces onward. 
Some magical LED lighting and masterful brass work was also provided by our Kweensland brethren, great work.
Assembly of the base could now be carried out . Lights , Power , Action .....
Although we all know that RED is a colour of favour on this forum , we could not pass up on a tinge of Orange as well, to enhance the base.
Eventually , this is what the Krew achieved from their great efforts.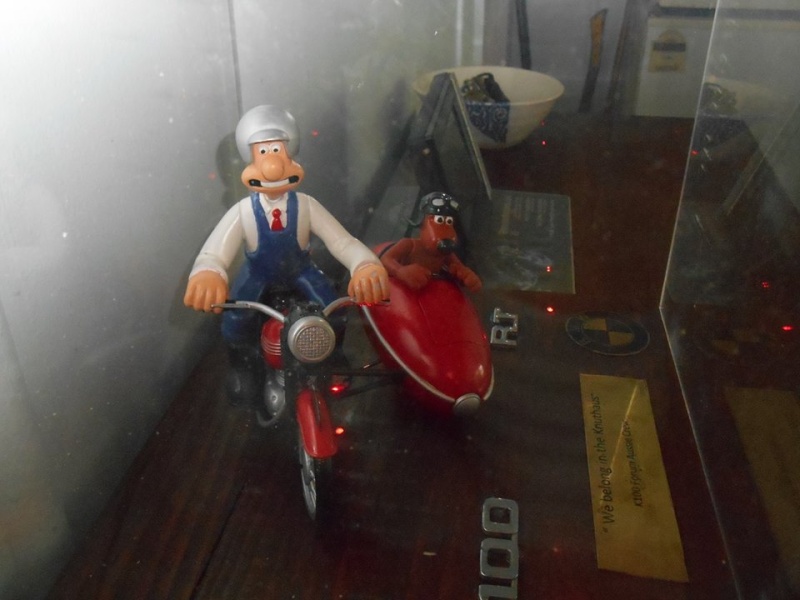 That chair almost looks like it's a mind of it's own, remind you of anything.
 won't be needing a Xmas tree this year , this thing sparkles good enough.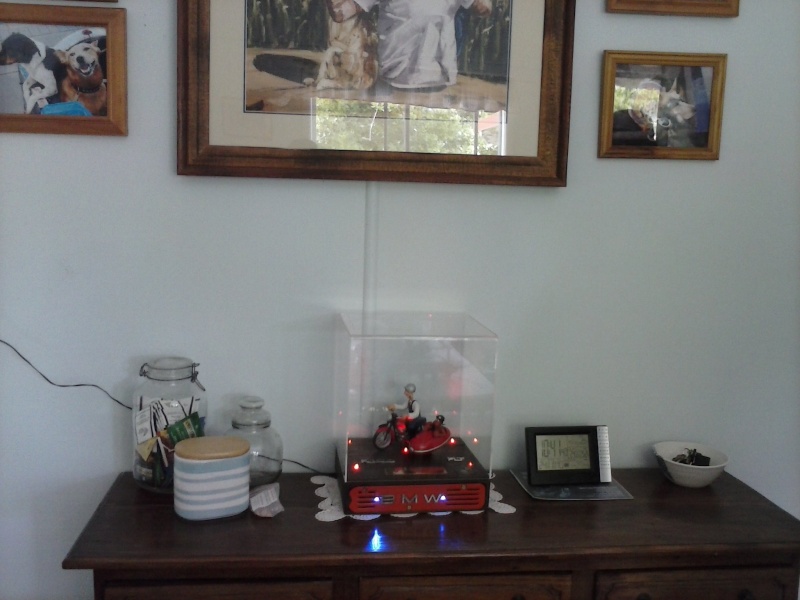 It has now been about 12 months since the showKase was at the ready stage, and a presentation day was hoped to take place at Smithy's first Northern Tablelands Ride last November. 
Unfortunately ,poor weather last year and personal circumstances disrupted this event. 
But in the meantime Sean had the opportunity to grow his clan , to now include Kerry and Seamus. A wonderful inclusion in his life and on his adventures around Oz.
Ironically , Seans escape to the Rocket breed of motorcycling fits in with this project ,as Wallace and Gromit are Trumpy aficionados as well. 
So Sean , we are all hoping this to be only a short rest away from the Knuthaus, and look forward to your Kompany on future rides.


Last edited by groverK on Thu Nov 27, 2014 4:31 am; edited 1 time in total
__________________________________________________
1987 K100RT  Ex- police        
1989 K100LT  Ol' Blue and "Kart" the Kamper trailer.
  now KAPUT . 
1993 K1100RS  0194321         Colour #690 Silk Blue  aka " Smurfette"
2018 Kart upgrade.