sidecar paul
Life time member
To paraphrase Michael Caine in the Italian Job:-
You were only supposed to change the bl**dy front tyre!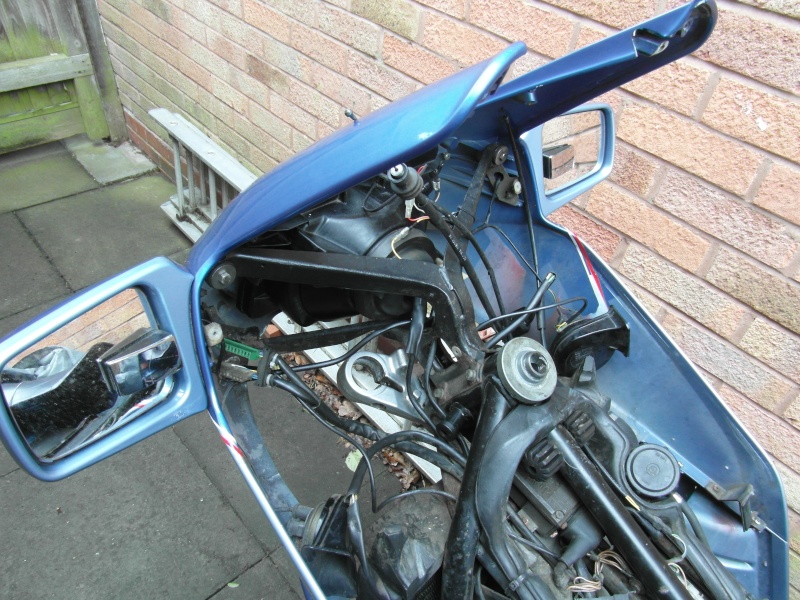 Over the past couple of years I've been collecting and repainting parts with the intention of tidying up my solo.
I needed a new front BT45 so I had one fitted to my newly painted (at enormous expense) wheel. I was planning the refurb for sometime in May, when my wife will be in America. I can then move my steam engine, bicycle and a few other big items out of my workshop and into the lounge, thereby freeing up some space to work on the solo indoors. 
So, I took the old wheel out and then thought 'I might as well change the fork legs for the re-painted ones'. Well, without the front wheel in place I could feel the head bearings, what a shocker, rough as old boots! 
Then the fork yokes came off, but not without a fight. The top nut just wouldn't move, even with the chamfer on my 30mm socket turned off to get a good purchase on the nut and my impact wrench with a big hammer. I resorted to carefully cutting through the nut to release the tension.
Fortunately I had already made a new stainless top nut.
Once I had got to the head bearing, I did the finger nail check on the inner race and, to my surprise, it was smooth as silk. The roughness was just hardened grease, so a good washing of the bearings and re-greasing solved that little hick-up.
Having had the bearing adjustment ring off, I'm trying a 'solo' version of my sidecar steering damper. Instead of using 'O' ring rubber, I'm trying 5mm expanded neoprene. As well as giving a bit of friction damping, it will also act as a seal, keeping water out of the bearing.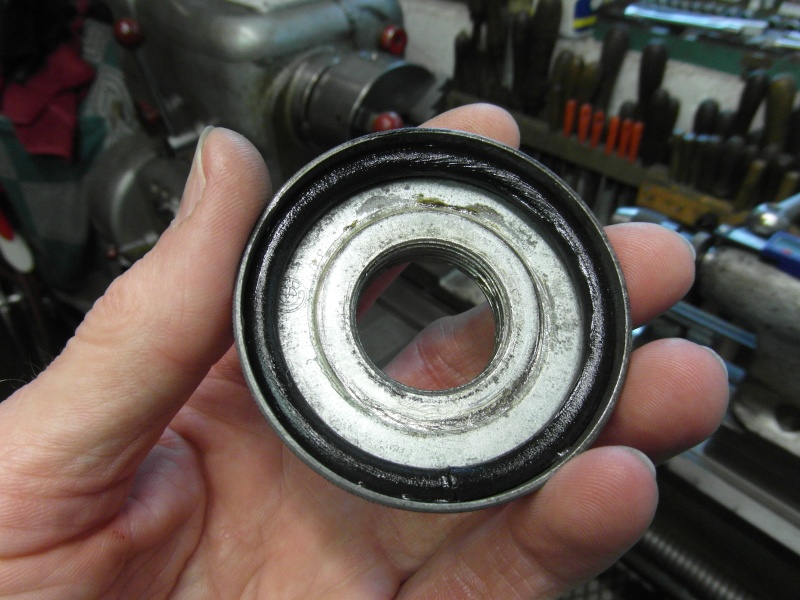 So far it feels good, but I'll have to wait until a road test to decide if it's really worth doing.
Newly painted handlebars, levers and housings, top yoke, new bar rubbers and fairing boots, new heated grips and brake lines and a lot more to go yet. 
To be continued.......
Paul.

__________________________________________________
'84 K100RS (0014643) (owned since '85), 86 K100RS (0018891) with Martello sidecar (built as an outfit in '88),
'51 Vincent (since '67),'72 Montesa Cota (from new), '87 Honda RS125R NF4 (bought 2015) 
....No CARS never ever!