Woodie
Life time member
This past Labour Day weekend was my first larger multi day ride since getting the K100 on the road in May.  Over the summer I have been getting to know the bike both as a rider and also mechanically and so I took the opportunity to head on up to Sault Ste. Marie for the weekend.  This area is the land of my birth and I was able to indulge myself a little and drive some roads I don't normally take.
This was the start of the 2000 km round trip.  I did my best to stick to the secondary roads as this is the worst possible time to travel here where I live in the south.  My first leg was a ride up what is known as the Bruce Peninsula.  This got me to the ferry terminal in a small town called Tobermory.  It is a beautiful passage during the day but on this trip I caught the last boat out and most of it was done in the dark.  The ferry arrives at South Baymouth on Manitoulin Island (in Lake Huron) and I stayed there over night.
I rode out early in the morning and the 100 km ride off the island is a mixture of twists and turns, ups and downs, and beautiful scenery all the way.  This portion of the ride was about three hours until I headed off the main highway to take the back route to Sault Ste. Marie.  The photo below is fueling up a good way up HWY 129.  It made me laugh when a road sign said 'Curvy road 20 kms'.  At the end of that 20 kms there was another sign saying the same thing.  The entire Chapleau Highway (129) is like that from top to bottom.  It follows rivers and lakes all the way and, like the vast majority of roads in this area, it started off life as a logging road.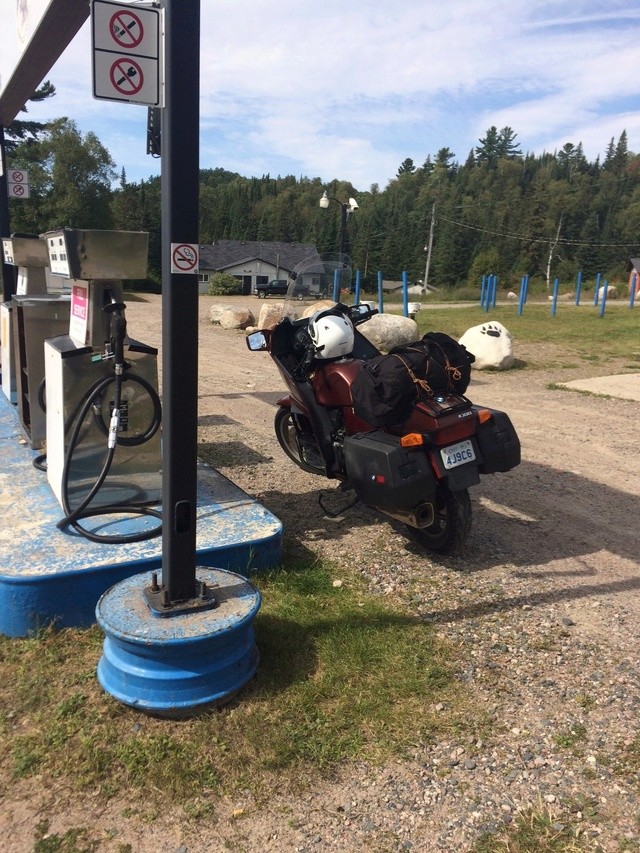 Three kms after the gas stop I got to Highway 553.  Perhaps it was the random and inexplicable 1 km stretch of pavement in the middle of its 80 kms of loose gravel and washboard, but this is also considered a highway.  This photo is of the nice section at the start. It went from bad to worse to worser after I took this shot.  A couple turns had loose gravel, washboard and were off camber and how I managed to stay up-right I really can't say.  But it was fun as hell.  What surprised me most of all was that nothing fell off the bike with all the rattling and juttering.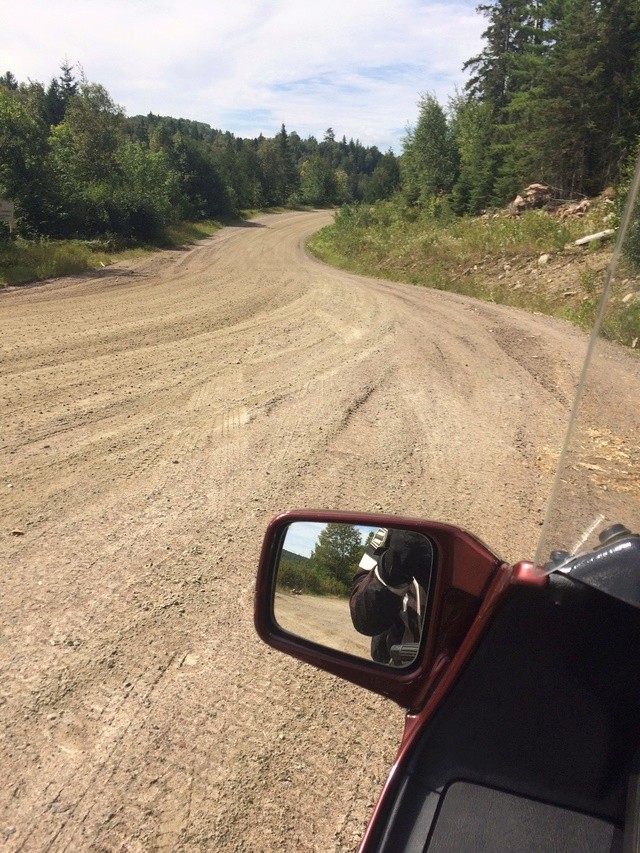 Here we are back home after a very long ride yesterday.  We are supposed to be well past bug season here where I live but there is absolute carnage spread over that windshield.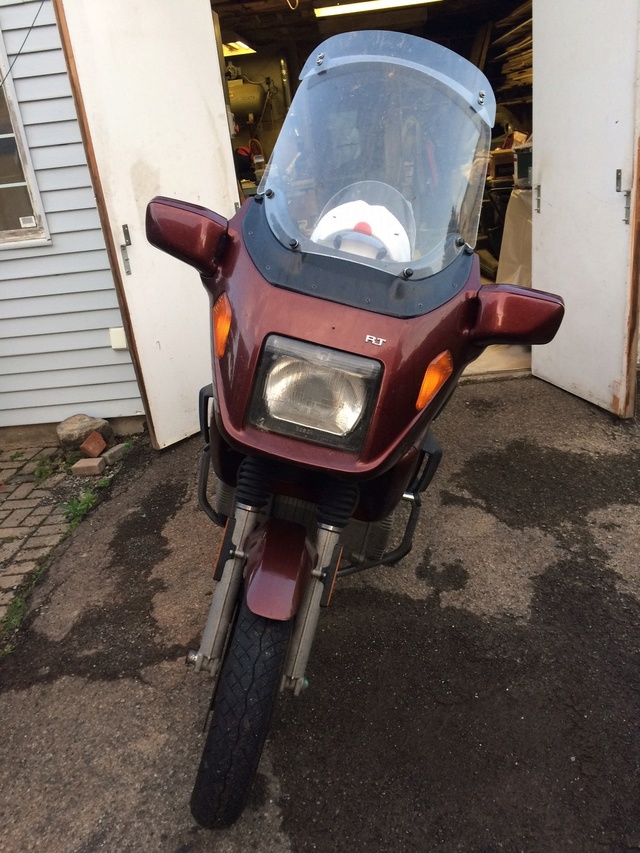 All in all it was an absolutely wonderful trip and I was amazed at how well the bike did.  I gave it some punishment to be sure but it handled it all flawlessly.  The only mechanical glitches came about when I road for 150 kms yesterday in a full on down pour.  I looked down at the instruments at one point and was amazed to see that I was doing 110 kmh in neutral.  My first 8500 kms have been an absolute blast!
Cheers, Andrew

__________________________________________________
1985 K100RT
52667
"Keep your stick on the ice.  We're all in this together."  Red Green