1 BMW RNineT on Wed Jan 21, 2015 12:11 pm
Two Wheels Better
Moderator
You've all probably seen or heard of this bike, the last air/oil-cooled boxer from BMW now that the Wasserboxer is taking over. It's a relatively light, sleek, and nimble little beast with 110 bhp from its DOHC hexhead motor. It reminds me of wheeling around my old Airheads due to its diminutive size and low-slung weight. In reality it's just under 490 lbs (221 kilos) dry. But it feels light. Peruse the interwebnet and you'll find all sorts of cool customs of this model from Japan, Europe and the Americas. Some of them are hideous.
Impostor by El Solitario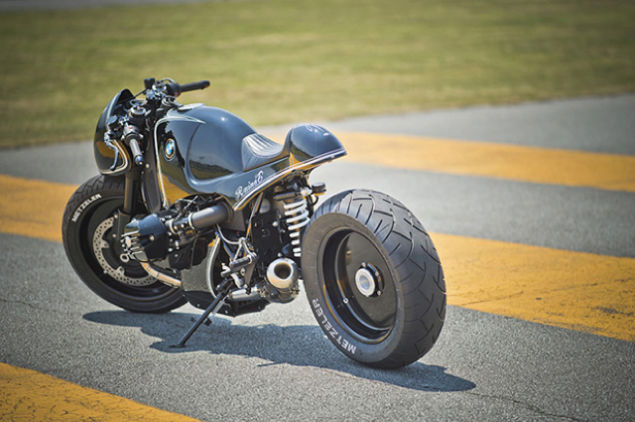 Highway Fighter by Cherry's Company of Japan
Concept Ninety by Roland Sands
They're quite customisable with removable subframe and passenger pegs, a rear seat cowl is available after removing the pillion seat section. There are various exhaust options, and the aftermarket have taken off with options as well. We had a look at the Rizoma catalogue and decided to make a version of our own. Some folk like the cruiser look and feel, others enjoy roadsters, some prefer café racers - the boss likes low 'bars and rear sets. This is ours.
We added a small flyscreen, carbon fibre front mudguard and front engine cover, clip-ons, bar end mirrors mounted in the stock mirror holes, a single Akrapovic can, ditched the subframe and pegs, added LED indicators, a tidied up taillight and number plate holder, and had the all-aluminium rear cowl painted to resemble the dark storm metallic/brushed aluminium colour scheme on the petrol tank. Once we'd all thrown a leg over we knew straight away that rearsets were required. They're on order.
I think it'll make a nice little road burner.
__________________________________________________
1987 K100RS, '89 K100 w/K1100RS engine, '93 Framed K11/K12 engine 'Big Block', '96 K1100RS, '09 K1300GT, '07 K1200R, '95 R100 Mystic & '77 R75/7.