Born Again Eccentric
Life time member
Getting a camera on my bike is something that I have been thinking about for quite some time. I wanted something that had adequate picture quality so it could be used as a black box recorder for routine rides and also good picture quality to be able to record those more scenic rides.
The choice and price range of Point of View (POV) cameras is huge - but for use on a bike it needs to be weather and vibration resistant. Thanks to
 88KE
's recent post on his new camera, I finally was spurred into action and finally got myself a new toy.
After much indecision, I opted for the Garmin Virb Elite. My main reason was because it had a built in GPS receiver which allows speed and location data to be captured in the footage (fairly important for black box evidence). Another thing that attracted me to the Virb was the fact that it is standalone and, subject to buying the right mounts, can be fitted to the bike, the car or to me (although I didn't buy the shoulder mount as it had poor reviews) and therefore can be used anywhere (surfing, skiing, biking, skydiving.....). It has a number of video modes: 1080HD at 30fps, Fast HD at 60 fps, Slow motion, Super Slow Motion HD at 120 fps and Time Lapse. Of course, I probably won't really use most of those settings - not on the bike anyway.
Quite pricey though - the recommended retail price is £349.99 (I got mine from Amazon for £275) and the accessories (extra mounts, mains charger, spare battery etc.) don't come cheap either. Doesn't come with a memory card - but takes class 10  micro SD cards up to 64GB. Memory cards (at UK prices) seem to about £1 per 1GB - I have a 16GB card which gives about 1.5 hours worth of 1080 HD 30fps recording. The battery life is claimed to be about 3 hours at this setting - so I guess the optimum card size would be 32GB. Charging is via a micro USB port so it can plug into computer, USB port on bike (I have one that plugs into my 12V power socket) - I believe it can charge and record at the same time - or by removing battery and charging in mains charger.
I have now used mine in the car (additional windscreen mount) and the bike (self adhesive mount stuck to inside of screen) with quite promising results. In both cases I had to mount the Virb upside down - but there is an advanced option that allows for this in the camera settings "flip camera" which is quite neat and easy to do. The camera is best set up before use as the set up buttons are small and the display screen quite dim. However, once set up and mounted in it's cradle it is a breeze to operate - a big fat glove friendly slide switch turns it on, gets the GPS position and starts recording. Sliding the switch back, stops recording, saves the file automatically and turns it off. An indicator light on the front of the unit shows green when on, orange when charging and flashes red when recording - this can be turned off to save power and/or provide for stealth mode recording. Driving at night, I found the flashing red light annoying so turned it off.   
Other features - there is an image stabilisation setting which is quite useful and seems to add to the quality of the recording, particularly when mounted on the bike. The unit has an inbuilt microphone, but can be attached to an external mic if desired. The internal mic is fine, but mounted on the bike (behind the screen), the engine noise sounds a bit tinny - I guess the hard core option would be to put an external mic down near the exhaust muffler, if you want to hear the throaty roar (and nothing else!). You can even buy external sensors from Garmin (e.g. temperature) that will wirelessly talk to the device.
I mounted my camera on the inside of the screen (just above my GPS). This is unobtrusive to my vision of the road, but gives a "near-riders eye" view point. This position gives me easy access to the device, keeps the camera fairly covert and also allows me to plug it into the USB charging point if needed. The down side - as shown on the second video clip is that the picture is affected by water or sunlight on the screen (you could argue that it is a true "through-visor" riders eye view) and also can get unwanted reflections. It is also subject to any shaking of the screen/fairing due to road imperfections - however, this is mostly not too bad and gives that riding feel of juddering over potholes etc. I am going to try mounting the camera so that it either looks though a hole in the screen (if I can get the courage to chop a hole in my perfectly good screen) of mount it on the front of the screen. My concern with the latter option is that it will stand out like a dogs parts, will not be easily accessible when riding and the audio recording may get drowned out with wind noise. Other options are to mount it below the headlight (as 
88KE
 did) - a remote control is available as an accessory, or go for a on-body mount. I guess a chest mount would give the "full" rider view experience - with everything on show (instruments, GPS, screen etc.). The third video clip shows the lens quality - gives a good sharp image.
The software/editing software is user friendly and allows for an endless variety of "instruments" to be added to the playback. The video clips can be split easily - this is handy for turning the instrument overlay off if you don't want to show your speed for a particular section (I don't know if you could be prosecuted for speeding by uploading a video that shows time & speed onto YouTube - but I know the police are increasingly using such sites to catch the unwary, so wouldn't want to tempt fate. For some reason, the map section of the file does not show on the saved file version - this is a shame because, this is an especially neat feature. A google type map can be opened at the side of the video picture and this shows the route being followed along with position on that route - a great feature for identifying where you were.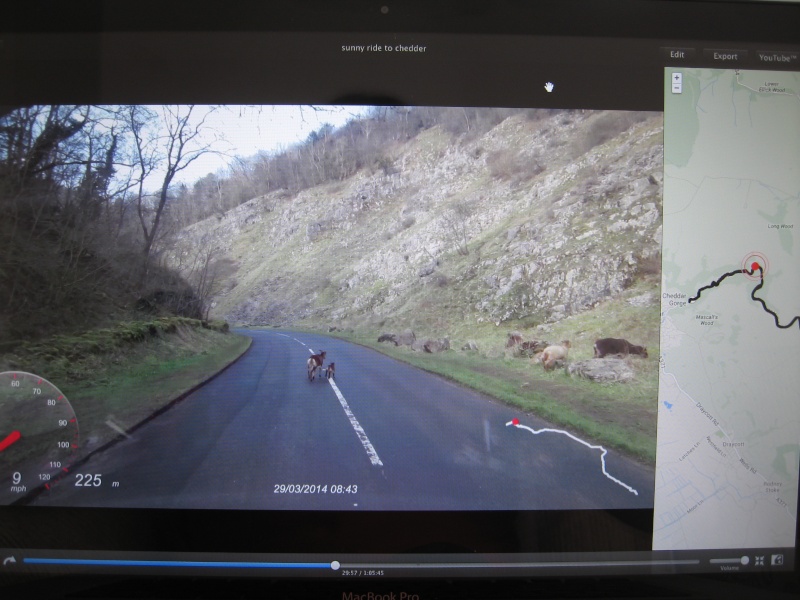 Anyway enough of my waffle - have a look at the three videos and see what you think.
Incidentally, the longest clip is from a run down through Cheddar Gorge in Somerset (the home of the original cheddar cheese and a few wayward goats).
Having waited hours for the clips to upload onto You Tube - they are much grainier than expected. The original footage is very sharp and clear enough to read number plates, road signs and even the small print black sign on the back of the scrap man's van ("I work hard because people on benefits depend on me" LoL!).


Last edited by PaulLipscomb on Sun Mar 30, 2014 5:36 am; edited 1 time in total (Reason for editing : This forum is so great - it even teaches numpties like me how to use the internet properly! Hopefully the You Tube clips are viewable now)
__________________________________________________

                              Paul  
"Heidi" K100LT 1991 (Grey) (VIN 0190172 Engine No. 104EB 2590 2213) - 5th owner. January 2014 (34,000 - 61,000 miles and counting....)
"Gretel" K100LT 1989 (
Silver
Grey) (VIN 0177324 Engine No. 104EA 2789 2211) - 4th+ owner. September 2015 (58,500miles and counting....). Cat C Insurance write-off rebuild Feb 17
"Donor" K100LT 1990 (Red)  (VIN 0178091 Engine No. 4489 2024) - 6th & final owner (crash write-off now donor bike).   June 2012 (73,000 miles) to November 2013 (89,500 miles)