klompy the grey brick
VIP
Hello again chaps;
You may remember some discussion about RossKKo's bike and its sale.
I have recently been asked to make it happen and I am happy to comply so wanted to run the idea of a group working bee on the bike so it presents its best side.
I do have a few ideas but basically its a clean and lube , tune, pretty up and sell her to an appropriate recipient.
I will be picking her up and her previous full suit of Police armour and combined with some of the parts still here should be able to present a very attractive package.
Of course if you cannot come over at a yet to be organised time please make suggestions for her improvement...as a reminder she looks like this.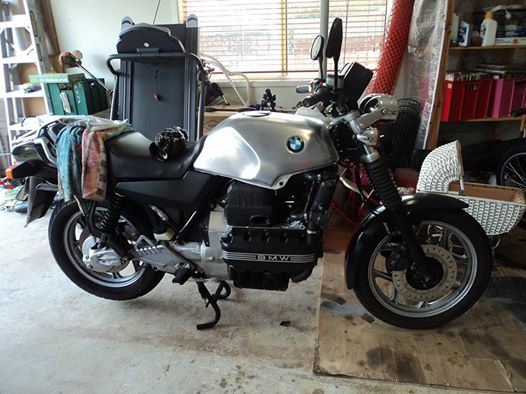 I have some white wheels and can put the knobbies on those wheels thoughts...any variations on the theme are doable...anyhow looking forward to helping out.
Cheers KKlompy
__________________________________________________
KKlompy
"Grace" 1984 K100RS Silver VIN 0019026 Mitt eine Staintune Zorst.
"Olivia" 1997 K1100LT Dark Grey VIN WB1052600W0237453.
| | |
| --- | --- |
| Chassis number | 0019026 |
| Vehicle code | 0503 |
| Series | K589 |
| Model | K 100 RS 83 (0502 ( 0503 ) |
| Body type | K 100 RS 83 (0502 |
| Catalog model | ECE |
| Production date | 1984 / 07 |
| Engine | 0513) |