1 Hola, Amigos on Tue Nov 22, 2016 9:54 pm
FreyZI

Silver member

New to the forum and to the K-bike community.  I've got a couple of BMW bikes, an R1200R and an R1100RL hack.  Recently purchased an FYK (1985 K100RT) from a local who'd abused it.
Story goes like this:  Somebody rode this bike a lot, putting just over 100K miles on it.  About two years ago, the guy gives it (I believe I heard that right) to a bloke.  At that point, it was operational and probably pretty well cared for.   Guy rides it a little bit and then decides to take his friend for a joy ride.  They end up in a ditch.  Bike sustains some damage:  Lower fairings buggered up, mirror busted, bar end scratched, rear brake fluid reservoir destroyed.  Overall, with the exception of the brake fluid reservoir, pretty much cosmetic damage.  Bike sits unfixed outside ... on gravel driveway ... with nothing under the sidestand.  At some point, bike gets knocked over, shifter lever breaks.  Bike sits some more ... with ethanol-added gasoline, probably exposed to the elements for some period of time.  So, within a relatively short period of time, this nice (what's it called, caribine blue, or something like that) machine goes from fully operational to looking like a parts bike.  Unfortunately, I've no photos of the bike prior to my tinkering with it -- just too excited to start tearing it apart to take pictures of the whole bloody thing.
Enter me, the optimist.   Hoping my $800 outlay was worth it.  At this point, I'm encouraged.  The plan: tasteful cafe or brat style, minimally modified, with relatively modest outlay of cash.
Thus far, bike's mostly apart.  Removed rear wheel and final drive.  Encouraged that the splines look good.
Removed swing arm, and again encouraged that the splines look good on the transmission end, too.  U-joint is perfect.  Nice to see evidence of lube on the splines.  Also, whoever had it apart last saw fit to use anti-seize.
Based on that, I'm hoping that the internals are in decent order and I don't intend to open the engine case.  I may, however, need to open the transmission, as I can't really feel a positive click and couldn't obviously run through the gears.  Maybe something broke when the shifter lever broke in the fall?  Other big issue is that the fuel pump wouldn't prime.  Emptied some nasty looking gunge from the tank, that I understand to be what ethanol gas looks like after sitting:  Kind of like vinegar and oil salad dressing -- gasoline on top, sludge on the bottom, with what I'd have to call globules floating around in it.  With that stuff out, tank looks pristine, except possibly for some corrosion or disintegration around the sending unit.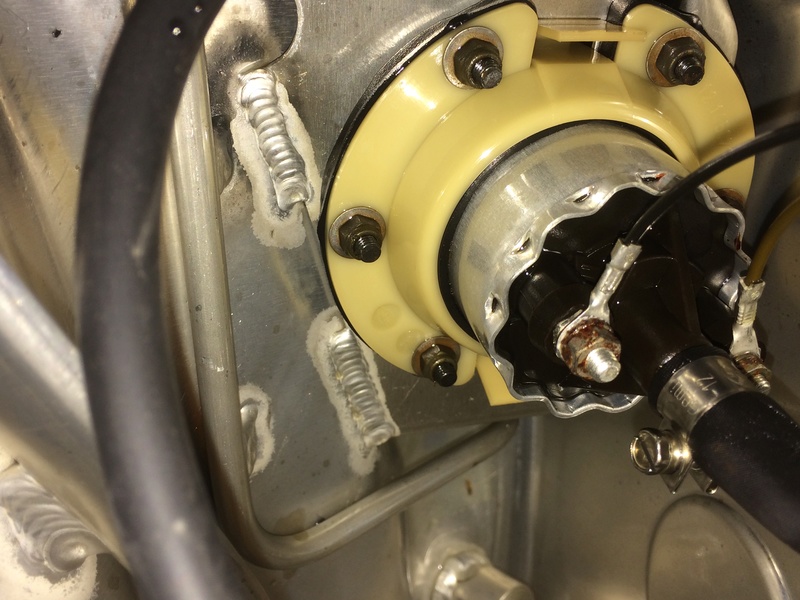 I've purchased a new aftermarket fuel pump and a fuel filter, and will install them as things start coming together when the frame comes back from the powder coater.  But, before it goes for the coating, I will hack a foot or so off the tail (plan is to reattach the back couple inches) to allow for the brat style seat, a mere 22" and very svelte compared to the massive king and queen jobbie that was on there.  Seat is coming from Vietnam, and could be here in a week or four, so no telling when I'll actually get to do detailed measurements and surgery.  I have virtually no welding experience, so I'll probably take the pieces to a buddy to weld up.  I'd try it myself with MAPP and oxygen, as this joint will only support the rear lights and plate (anybody have any success with that, or should I just take it to a welder?).
Rear brake disc was shot and will be replaced with an upgraded EBC SS version.  Front brakes are probably salvageable.  Incidentally, these Brembo units appear to be virtually if not identical to the ones on another project -- a '79 Moto Guzzi V1000 G5 (being restored to something like original).
Otherwise, I think nothing too unusual for a 30-year-old bike.  I've only ordered aftermarket parts so far, but I'm going to have to find a good source for OEM shortly.  My first foray into OEM parts was looking for the fuel rail insulation pad, which apparently is no longer available.  Can I just use household pipe insulation?
Well, I look forward to lots of advice and learning.  I welcome any advice.
Cheers,
Frey