duck
Life time member
(Applies to 2V Ks only.)
At least in the US, K bikes no longer had a choke indicator light in the cluster after 1990.  However, it's quite easy to get that functionality back on 91+ bikes.  All you need is a piston switch (same as the switch used for the front brake and clutch) and a spacer ring. Even though BMW didn't install the switch, the wiring that connects it to the cluster is still there.
The switch installs in a threaded hole in the rear of the throttle bodies.  It's easiest to do this if you get the throttle position sensor and crank case breather hose out of  the way. Then use an 11mm open end box wrench to install the switch with the spacer ring below it.
Here's a picture I took from a 91 K75S I just did this to: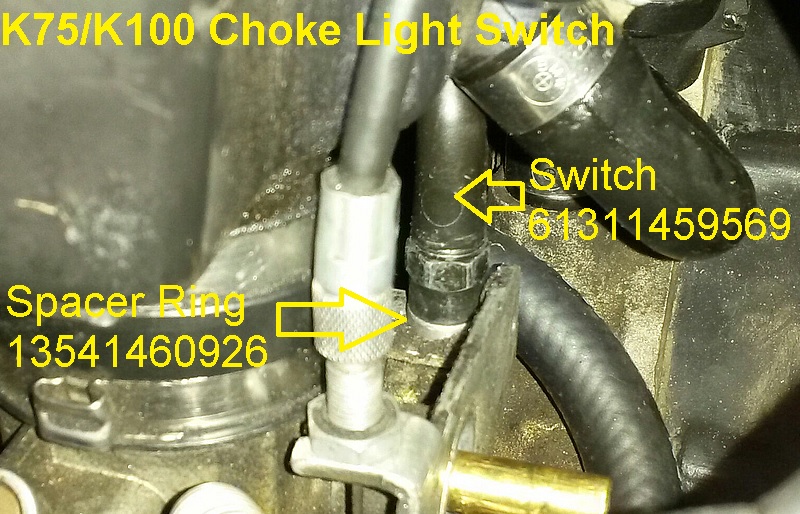 Once you have the switch installed look for an unused two wire connector (violet/white & brown) under the front left of the gas tank.

__________________________________________________
Current stable:
86 Custom K100 (standard fairing, K75 Belly pan, Ceramic chromed engine covers, paralever)
K75 Frankenbrick (Paralever, K11 front end, hybrid ABS, K1100RS fairing, radial tires)
86 K75C Turbo w/ paralever
94 K1100RS
93 K1100LT (x2)
91 K1
93 K75S (K11 front end)
91 K75S (K1 front end)
14 Yamaha WR250R
98 Taxi Cab K1200RS
14 K1600GT