Born Again Eccentric
Life time member
On return from the mini KFest here in the UK, I thought that the oil spots on my rear wheel were a sign that one of the rear brake hoses giving out. I was wrong - but changed the hoses to new Goodrich stainless steel braided ones anyway. The oil, it turned out, had come from my Realm Engineering RAM shock. Bit miffed about that as it is less that 4 years old - I expected it to last a lot longer than that.
Tried finding Realm Engineering on line, with a view to sending it back for a refurb...but failed. Are they still in business? My search suggested that BSK Speedworks now market them. Anyway, having had two RAM shocks fail (Gretel had one fitted when I got her from Sgmayhew - but the spring was very rusty and the oil seal went due to corrosion on the piston - Realm refurbed that one for me), I decided to try a different make and, this morning, the delivery woman  brought a shiny new Hagon shock from Motorworks.
It occurred to me that the cause of the failure is an accumulation of road grit and grime that gets on the piston, especially during the winter months, and causes premature failure of the oil seal. Tucked away behind the right pannier, the shock is mostly ignored by me...to my cost!
Anyway, this time I also bought a pair of the front fork gaiters and have fitted one of these over the Hagon shock spring - I needed to grease up the spring with a little vaseline to get it to slide/screw on, but it is pretty much a perfect fit and hopefully will keep all the road dirt away from the piston and oil seals - time will tell! The gaiter covers the shock load adjustment mechanism, which isn't great, but then I very rarely (never) adjust the shock pre-load and the gaiter will move down enough to get the C-spanner in, if required.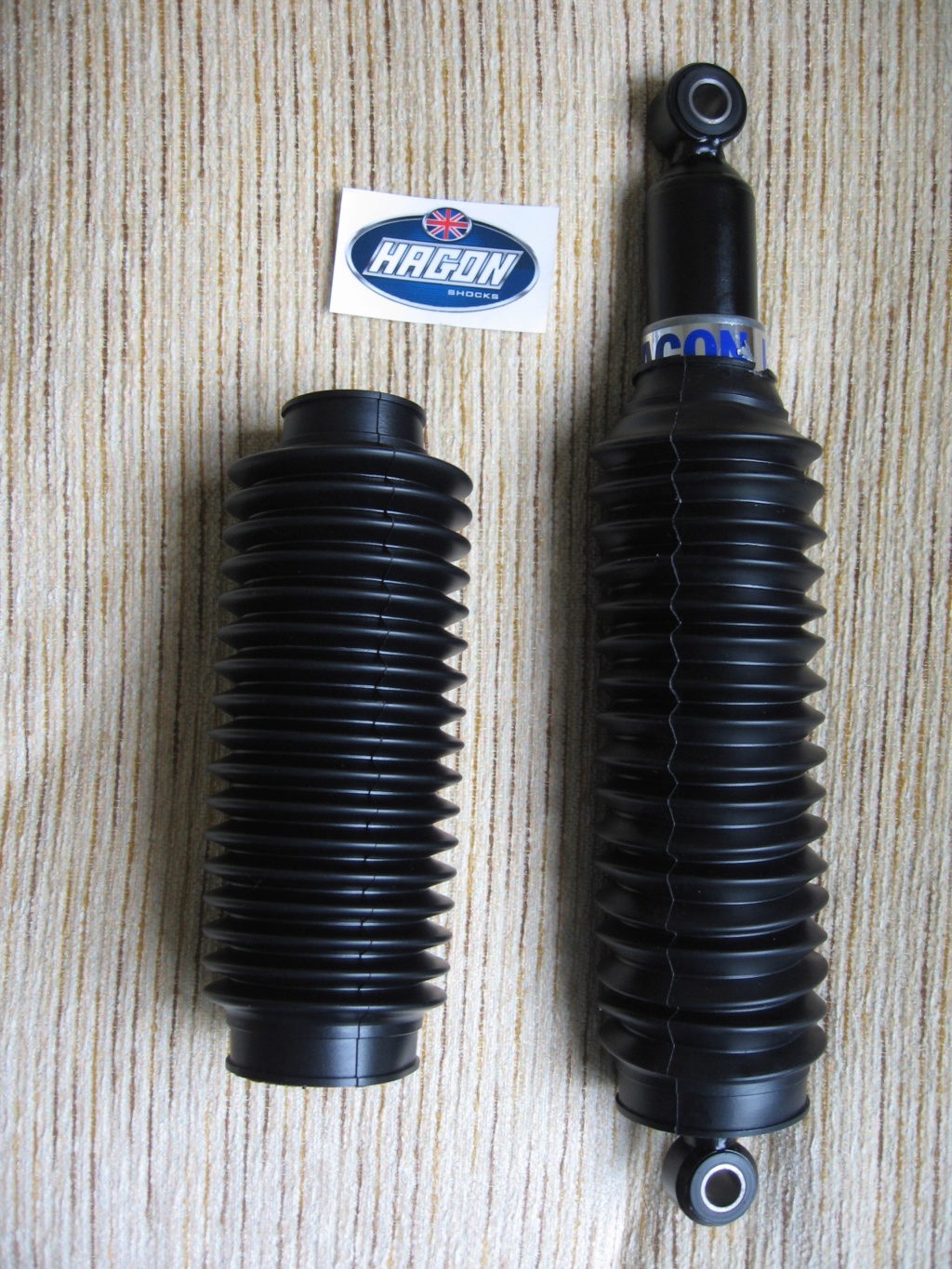 Now to go and fit it...
__________________________________________________

                              Paul  
"Heidi" K100LT 1991 (Grey) (VIN 0190172 Engine No. 104EB 2590 2213) - 5th owner. January 2014 (34,000 - 61,000 miles and counting....)
"Gretel" K100LT 1989 (
Silver
Grey) (VIN 0177324 Engine No. 104EA 2789 2211) - 4th+ owner. September 2015 (58,500miles and counting....). Cat C Insurance write-off rebuild Feb 17
"Donor" K100LT 1990 (Red)  (VIN 0178091 Engine No. 4489 2024) - 6th & final owner (crash write-off now donor bike).   June 2012 (73,000 miles) to November 2013 (89,500 miles)