1 K100RS 1986 Thu May 01, 2014 4:28 pm
Kolgrimr

New member
Greetings dudes and dudettes
I am me myself and I from Sweden. You can call me J
I am 37 years old.
2 years ago I bought myself a Yamaha TR1 1983 which I am customizing a bit. The build takes more time then I expected from the beginning and I wanted to have a ride for this year.
Short on money I started to look around.
After a week of browsing my options I realized that I would try to find a K bike since they seem to be more modern and better looking IMHO then most other bikes from the 80s and early 90s.
Then it happend, I found a bike for a good price and the amount I could put right now.
I bought a K100RS from 1986 2 weeks ago.
After driving almost every day I find it very easy to drive and suprisingly good to handle, even compared to much newer bikes.
Today I changed the oil and oilfilter.
Old oil was not so bad by color, no particles either.
I choose to put a 20-50W oil because my bike puts out a bit of smoke sometimes after resting on the side.
The new oil seems to help but I do not know yet since I did not drive that much today.
Next I will replace the brakepads, not because they are worn out but because it seems the bike have not been used much for some time and after checking, the brake pads are hard as metal and squeaks.
I am not very fond of the looks of the fairing and the riding position but all in all, I am a happy dude.
Looking forward to read in this forum.
Cheers
J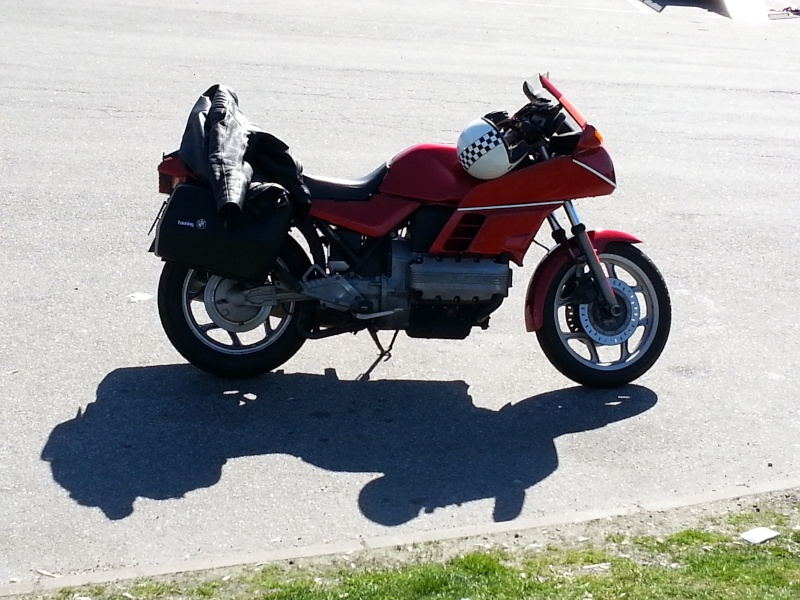 Last edited by Kolgrimr on Thu May 01, 2014 4:33 pm; edited 1 time in total (Reason for editing : forgot pictures)