Michael Sydney
Silver member

I have been reading several threads, both new and old,  on the forum about K bikes running too rich looking for clues about a current problem with my 1983 K100. Mathew suggested I open a new thread to describe this .
Since I dropped the bike on October 2019 the bike was sitting waiting for a few parts and more recently waiting for the tank to be repainted. When I got the tank back the painters had lost the fuel pump from within. After a month of searching the paint shop they have provided me with a new pump, mounting and filter which are now fitted. I also have a new battery.  Other than this the bike is essentially as it was before the drop. The temperature sensor was new about 18 months ago.
Finally this last week I had a chance to ride again. The bike started fine but was not happy at idle. I fitted new NGK spark plugs and went for a 200 km test. This included about 60 km of high speed expressway. All went well except:
#1 Popping on overrun
#2 Poor idle (sounds rich) and if stopped at a red traffic light very poor power and spluttering pulling away as if flooded. However at speed pulled well.
#3 Noise from fuel tank
When I arrived home after a hot fast run I pulled the"new" plugs. All very black, maybe more so cylinders 2 and 3
I guess I first need to check fuel pressure and resistance through the temperature sensor and it's wiring. Alternatively could the tank noise be from the fuel return line non return ball valve causing higher pressure at the injectors? I also had the injection control unit out of the bike so the large connector might be suspect.
I will work through these possibilities. Any further suggestions? Any ideas gratefully received !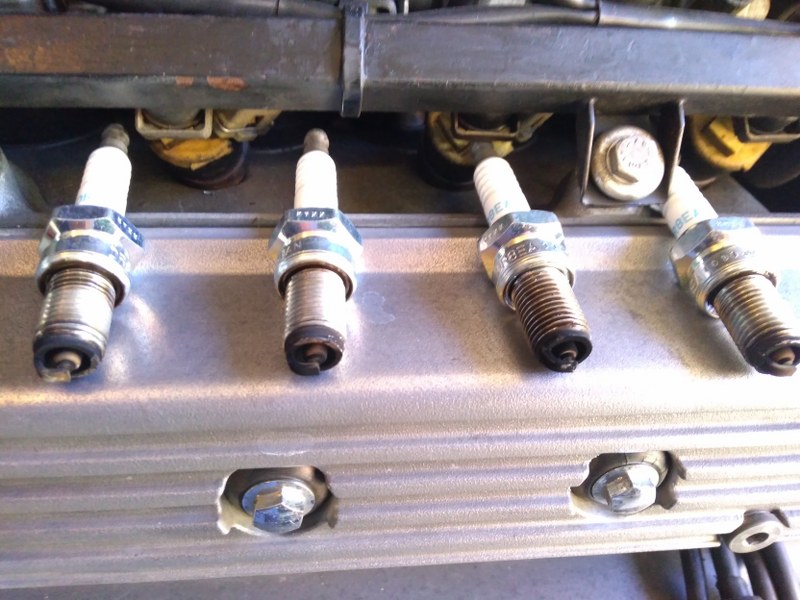 __________________________________________________
Living in the past! K100 '83 and R65 '83.