jbt
Life time member
Back in the days, the K100RS was advertised as a sport tourer bike. Well, tourer ok, sport...not really, even if it was really efficient, in spite of a relatively modest power.
So some tried to improve this sport side, with parts or accessories made for the K100. Few companies, in fact...Wüdo, Fallert, Wulf Gerstenmaier made a wonderful sport K100, Luftmeister in the USA with turbo kits...but that's all.
With no support from the factory in road racing championships, nobody wanted a look alike bike, so sport parts designed for K100 are quite rare. The BMW catalog only offered a one person sport seat, sport footpegs and sport suspension from White Power.
Rovering in european swap meets, I found some of these  parts, year after year, collecting them, hoping to find one day time to build an 80's racer replica.
And then Covid 19 arrived!
Yeah! Plenty of free time, a big garage, a lot of spares and the basis, a damaged 1989 K100LT, bought last summer for 300€...let's start.
Goal: build a sport K100, only with dedicated parts from the eighties. No chinese crap made for today's  shorttailed "racers", no led lights, no digital speedo, and no fucking diarrhea colored short tail .
After installing new fork tubes and overhauling the dampers, a Telefix link was installed to get this fork more rigid. I could have installed a Showa fork from a K75...but I prefered this option, that allowed me to change also the front mudguard.
3 spoke optionnal wheels, named "sport wheels" in BMW part list, but in fact heavier than Y spoke wheels, were installed. Renewed brakes, the ABS is still in place, until I can test it on road. If it's out of order, as I'm awaiting, I'll remove it to save weight (14kg).
Then the engine was serviced, with a full new injection line from the pump to the injectors.
The exhaust comes from France, Recchia, a BMW dealer from Lyon, made by Bobopot, an exhaust maker nearby. Street legal, different sound but not too noisy.
I found K100 rearsets from ABM and the Fallert seat in a small swap meet I'm visiting monthly not very far from home. Very unlikely to find these rare parts there...but they were.
The footpegs are uncomplete, so I had to install a master cylinder outside with a direct command, instead of the original device. Too big (16mm Nissin instead of the 12mm Lagura) for the caliper, it's almost inefficient. But the Covid lockdown made it difficult to find the good parts...I'll change it later.
The seat was a 2 person, but the passenger seat was missing. So an new foam and new upholstery were made to create an single person seat.
The rear damper was changed for an Ohlins shock, with a new spring.
A K75S handlebar was fitted. Clips on bars could have replace it, but I'm getting too old to cope with this position
For the fairing, I first tried a Ducati half fairing. Good looking...but not the spirit, and so many time used and seen. So I used a half RS fairing, with no side panels nor radiator cover, but it was tilted forwards, for a more sporty line, with home made brackets. I had planned to install a smaller rectangular headlight, but found that the windscreen shape was eventually too complex for my skills to extend it from a polycarbonate sheet. I've been searching a twin round headlight from Wüdo, with no success.
Then today: first start, and first ride!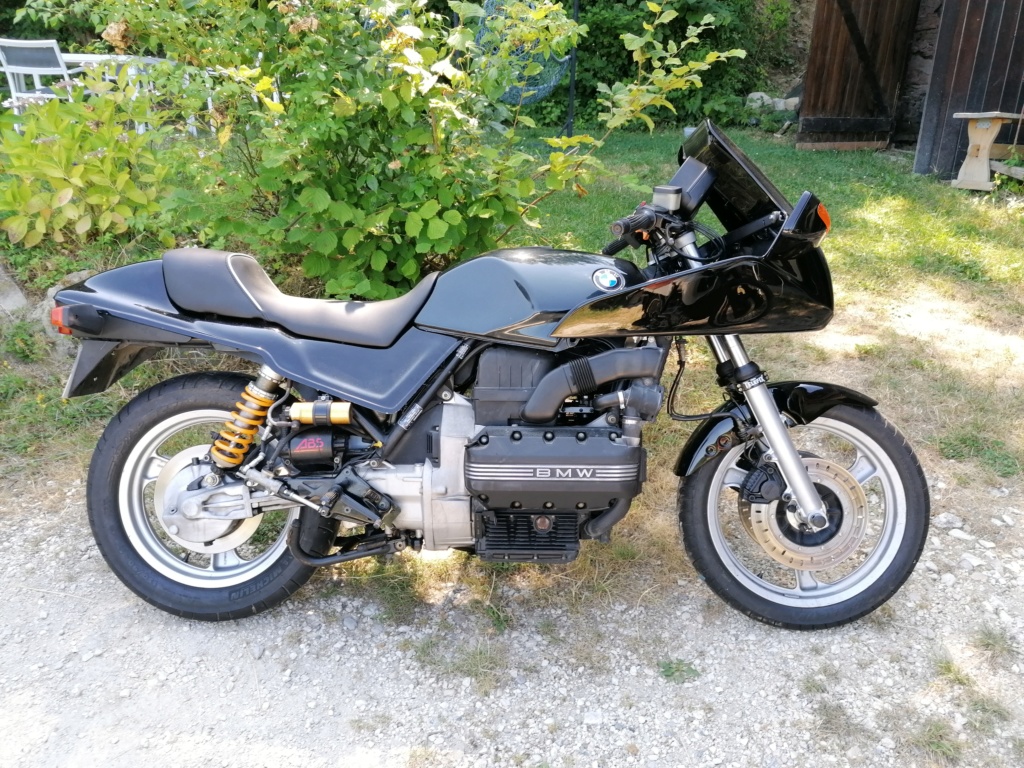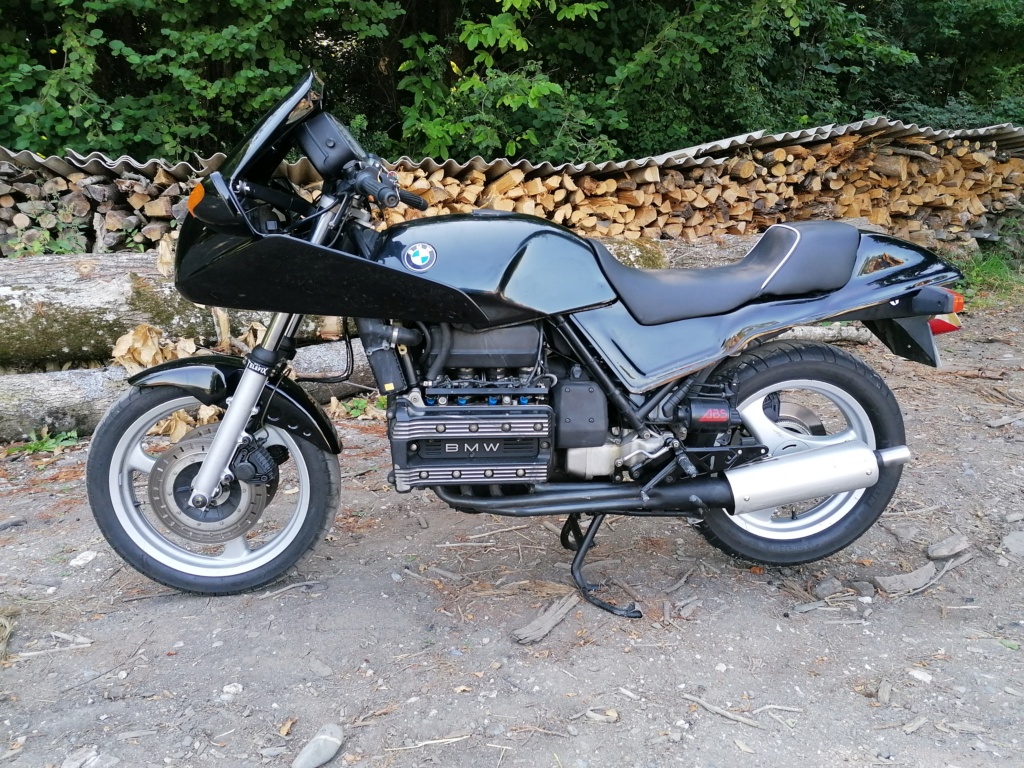 Very short and prudent ride, as the temperature today is so hot that I could not do a real test ride wearing only shorts and T shirt. But the few kilometers I rode were enough to enjoy the good and honest behavior of the bike. Excellent roadhanding, lighter than my basic K100, good position. The engine needs some ajustments at idle, but it revs quite well!


Last edited by jbt on Fri Jul 31, 2020 3:16 am; edited 1 time in total