JiiPee63

Silver member

Hi there, 
While putting everything back in place in the engine (just covers were out), I noticed that one of the valve cover bolts was not tightening at all. I used a torque wrench (9NM) to tighten them. I thought to sort this out a bit later but ..okay.. I could not help it. So, I took the valve cover out and realized one bearing clamp having cracks (see pics). Also saw that there were helicoil type threads attached to a bolt. So, someone had fixed threads in the past. By the way, I did not fired up the engine since last autumn. It has been in a warm garage all the time. 
Another odd thing is that metal structure at the bottom of threads hole looks like the surface of the moon or cheese. It is not like machined. When we look at the bearing surface things turns out to be even more peculiar - pitted surface! I do not feel any scratches with my finger nail but I do feel those pits. Do you have any idea what makes those holes? Corrosion, lack of lubrication, casting quality or something else? Camshaft is visibly in a good condition. I did check other clamps and there are no problem with them. Only this one (n:o
is scrap. 
Anyway, I just ordered a replacement (used) from Germany.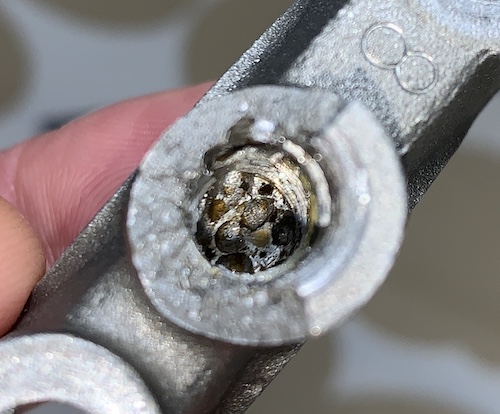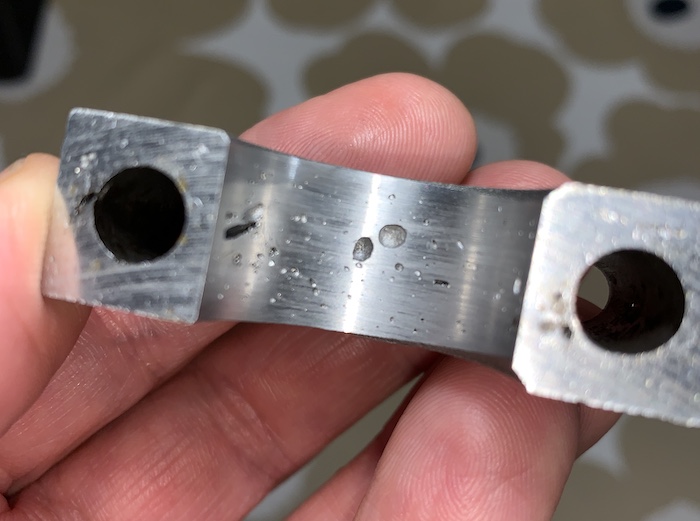 __________________________________________________
1986 K100RS 0089906 (Black 608)
Ex - 1984 K100RS (white), 1986 Suzuki GR650