VashonK100
active member

I'm relatively new to motorcycles, I've been riding about 3 years now but I've been riding just about every day since I got the first bike, a 1979 BMW R65, still my everyday rider.  
Recently someone offered me an 85 BMW K100RS for free.  I jumped at the opportunity and picked it up immediately.  He said it had an intermittent starting issue and just stopped riding it, it's been sitting ever since.  I got the impression that he was talking about 2- years.  It wasn't until I got it back to my place and had a closer look, that the reality of my situation settled in.  This thing was in bad shape!  And the tabs were from 1999!  It had been sitting for 14 years, and much of it outside. 
So here I am doing what I can to get it back on the road and learning quite a bit along the way. 
I started a blog but I've quickly realized I should be posting here, where I can take advantage of the tremendous knowledge base and generous forum members.  
Amazingly I was able to get it started with a friend over the weekend after pouring out the old gas (if you want to call it that) throwing in some seafoam and ethanol-free fuel, changing the oil, and hooking up a new battery.  It didn't purr like a kitten but it gave me faith that it was worth trying to bring back to life.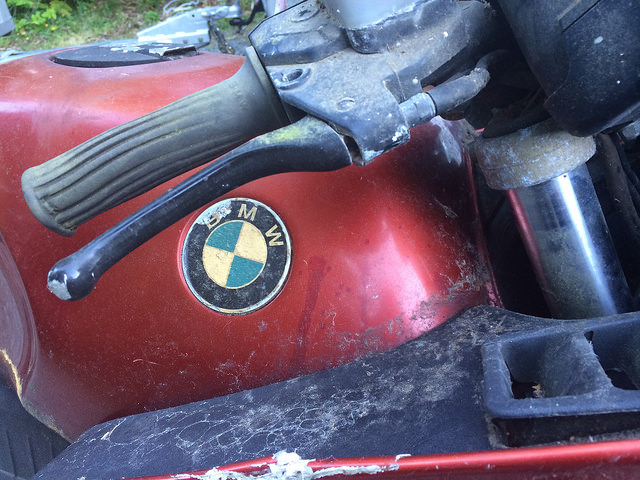 I decided that although I was really looking forward to having a bike with a fairing, it was going to have to go into the barn and wait to be restored at a later date. 
The paint on the tank was stained from probably being on its side for a while, who knows.  I figured, it's an aluminum tank, lets just sand it down and see what it looks like. 
Sanded down with a clear coat and new emblem: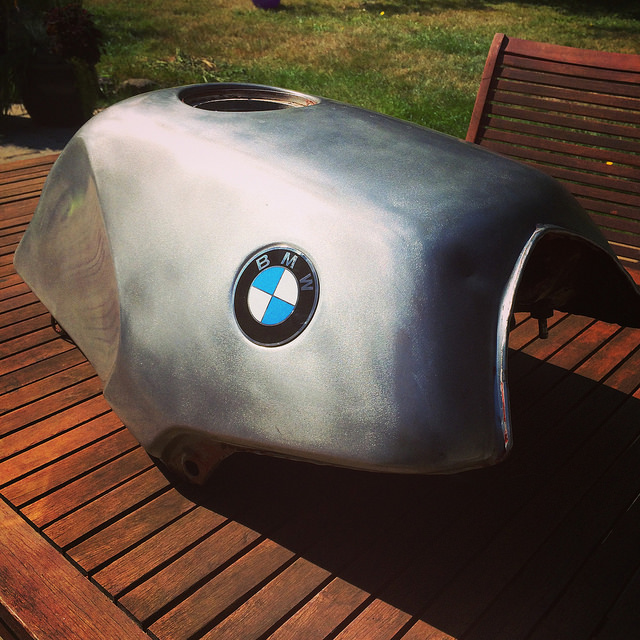 Oh, and the tank had pinholes in it of course.  I opened them up a bit, used some JB Weld and then used Red Kote inside.  
I'm on a pretty tight budget for this one, the original challenge was to keep it under $1K.  So any painting would be rattle can, I was going to go for black but found some silver metallic in the garage my son had been using and figured what the hell, let's see how it looks.  I was surprised how well it matched the aluminum.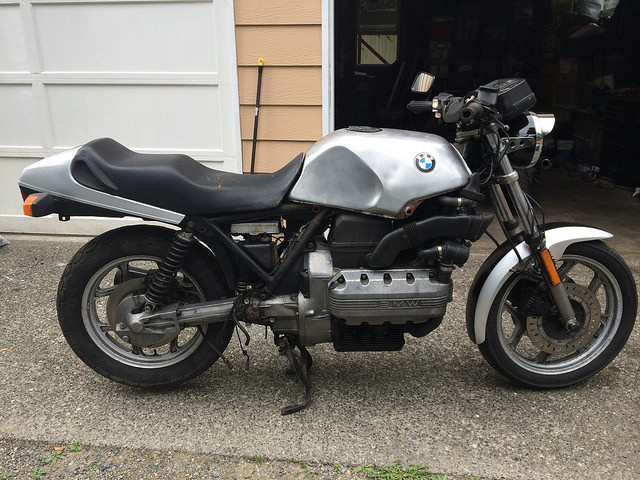 Added a black stripe down the front fender and the back seat cowl for the hell of it.  
Also added a British-style H4 Headlight and some torpedo turn signals, both from Dime City Cycles.  Some Bar end mirrors and a hell of a lot of scrubbing.  
Put Progressive springs in the front. 
Got a replacement rear shock from a friend off another 85 K100.  
Updated the throttle cable
Just replaced all the plugs and wires.  It starts nicely and sometimes holds idle.  
Challenges I'm facing now:
 - Tach and Speedo don't work (I took apart the cluster and checked connections all of which looked surprisingly good.
-  Neutral light comes on when starting the bike but then goes off.  
-  Pipes have some rust holes.  Try and weld them?  Or replace (I'm on a budget!  And I know a welder...)
-  Rear brake cylinder is frozen up.  I'm still trying to get it apart but it's looking like it may need to be replaced.  
-  throttle tube gears are bad, needs to be replaced
-  brake lights don't work
I guess that's about it for now.  It's been a hell of a lot of work for me to get it to where it is now.  I'm no mechanic so things probably took me a lot longer than they should have, but have learned a hell of a lot and spent a lot of time cursing in the garage.  I've got a lot of respect for these guys who do complete tear downs as winter projects (but I also have to question their sanity).  
Any troubleshooting ideas or suggestions would be would be helpful.  Thanks!