Ed
Life time member
 I purchased a towbar from Rendrag and he kindly provided some pen sketchings of how to wire it up . 
It didn't  quite match up with my existing harness , so this is how I went about it.
Before I start splicing, 
I'll be concentrating on the wires exiting from the top of the black box. 
left turn , right turn, stop and tail light wires are reasonably easy to follow and tap into, but what else should I be looking out for , Earth?
In Australia on cars, the earth is normally provided through the white wire. 
So the Brown Earth from the bike will be connected to the White Earth on the trailer.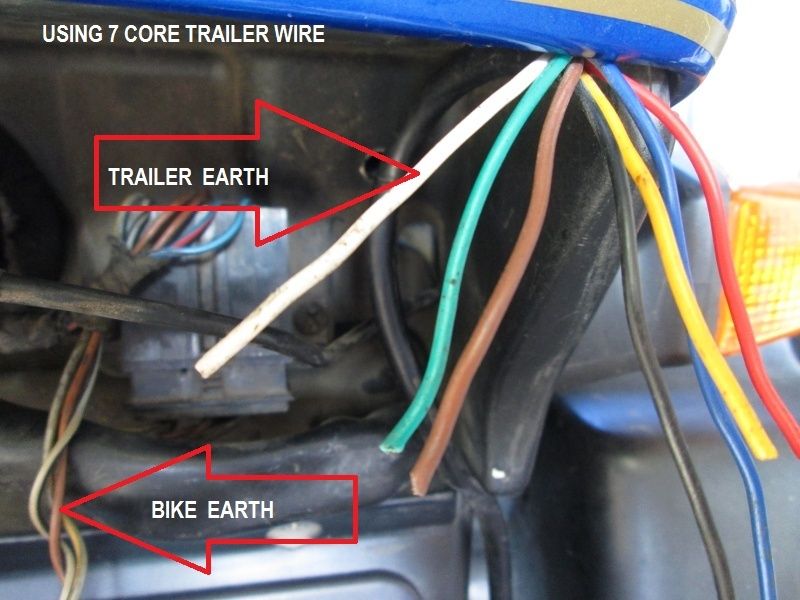 Enlarge this image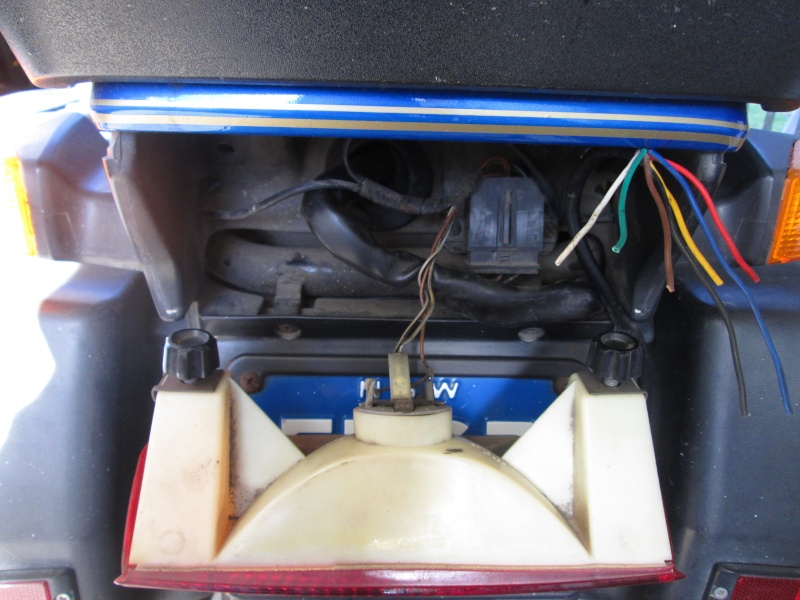 WIRING YOUR K FOR TOWING A TRAILER
  installing  / wiring a trailer harness to your K100 / K75 / K1100
step 1. remove taillight to expose wiring under tail cowl.
step 2. BE SURE NOT TO CUT INTO ANY BROWN ( Earth ) wires. leave these intact.
step 3.    cut, strip and prepare the following wires: 
              left and right turn signal 
             brake (stop)and taillight (parking)
step 4.   with your hitch harness cable , strip and prepare the corresponding wires for connection, ie ; turn signals, brake , taillight , and 
earth.
             google : Trailer wiring   , for your colour codes.   
step 5.    crimp individual female connectors to all lighting wires leading on to your power source.
step 6.   start pairing up harness wires with corresponding light utilities,and twist together   
              ie; bike brake light wire with harness brake wire.        bike taillight with harness taillight etc , etc
step 7.   when pairing is complete, insert these into individual male connectors.           
step 8.    continue by connecting the previously prepared female connectors to the male connectors.
step 9.    find a good earth ground on the bike , such as the z frame bolt under the tail cowl, and attach the hitch harness earth wire to this point.
just remember , as pointed out previously , K bikes have BROWN earth wires, and trailer harnesses have WHITE earth wires.
so be careful when colour coding wires together or attaching an earth from the plug to your frame .
step 10.   run a test on all lights and earthing, by means of multi meter or test light (with probe spike). I used the latter, it was simpler.
step 11.   reassemble all tail components .
I fitted the block connector in place , and had to remove it , as there was no room for it.

Enlarge this image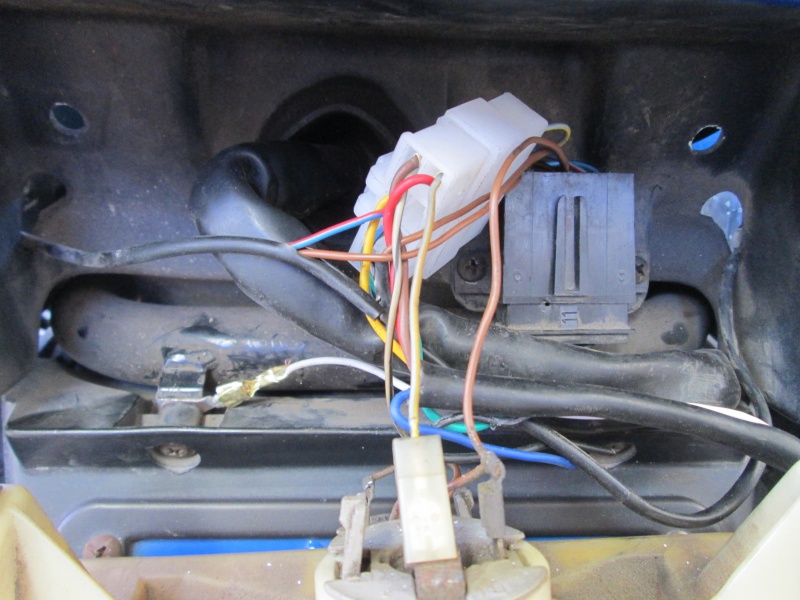 it has been replaced by single connectors. wires are now shorter than I would like , not much room for tolerance.

Enlarge this image



A quick test resulted in all bike lights operating as they should , but no response from the 7 pin hitch harness. 
I used a light probe , prodding the middle earth pin , and making contact with pins 1,4,6 and 7, 
the earth to the bike may still need some attention.

 but it is good to have the connectors in place and the bike lights working.

Here
 is how it finished up . Thanks to the Krew for their help .
you are now ready to hitch up your favourite trailer and start touring.


Last edited by GroverK on Tue Jul 05, 2016 10:44 am; edited 2 times in total
__________________________________________________
1993 K1100RS  0194321         Colour #690 Silk Blue  aka " Smurfette"
2018 Kart upgrade.