tinyspuds
Life time member
Morning all,
Has anyone fitted the very pre formed dished spring diaphragm?
Best shot I have atm. I have fitted this along with a new ring and friction plate as I was doing a spline lube and taking off the sidecar subframe is such a chore I wanted to do as much PM as possible. Also replaced rear main seal and gearbox input seal.
Long story short. Did it, put it back together, watched it not work.
1. The clutch is permanently disengaged (can hold and stop the output shaft turning in at least 4th and 5th gear - effectively: slipping).
2. The pressure piston is recessed about 5.5mm from the face of the gearbox.
3. Everything about the release arm, pivot and rod is as expected, but the adjusting bolt has to be almost fully wound in before it makes contact with the piston (but once it does, clutch lever action feels normal but makes no material difference to power transfer or the ability to move thru the gears).
4. No apparent return action on the release rod.
Last night I concluded that I had put the spring plate in backwards i.e. convex side facing engine - thereby putting the spring plate out of reach.
Just taken tranny back out and: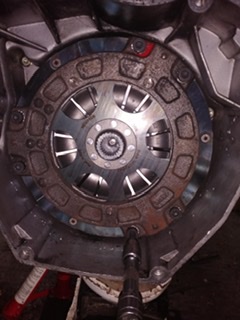 Bugger! it's ok. 
I can't get beyond any diagnosis other than the release rod is needing to go too far in before the spring is actioned and, as the plate is concave forward, leaves only the idea that the centre portion of the new spring plate is further away from the friction plate than the old style.  i.e. a bit recessed.
Obviously, got to strip the pack now and do some measuring of the old and new spring plates (nb. the new friction plate is the generic one from motobins), may just refit with the old spring and test again. 
But if someone wants to tell me that I'm an idiot and should have done an easier this or that, I'll take it.
Off with the family now to see Jumanji, please let me know when I can leave the game and get back on the outfit.
Update. 
The release rod or diaphragm don't stack up as cause as clutch is perpetually close to disengaged. 
With gearbox off the pack is tight and will turn engine by hand.
If it's only a problem with gearbox on, could gearbox be bearing on the clutch Spline, seperating the plates?
This would also explain the release rod issue.

__________________________________________________
1985 BMW K100RT + Hedingham HUB and LL's. VIN 0028106. (Not blind to the irony of an April 1 production date).
1986 K100RS in boxes. VIN 0141918.
1954 Royal Enfield 350 Bullet. Original.