88
Life time member
My
temporary solution
was so effective it took 6 months to get around to this..Having assembled the bits I finally got around to it today.
Most tank locks fail when the little nibs on the lock barrell get corroded and break down. The corroded barrell then chews the holes in the plastic receiver cup leading to the barrell just spinning without activating the latch. The pictures below show the old versus the new barrell and the new plastic cup.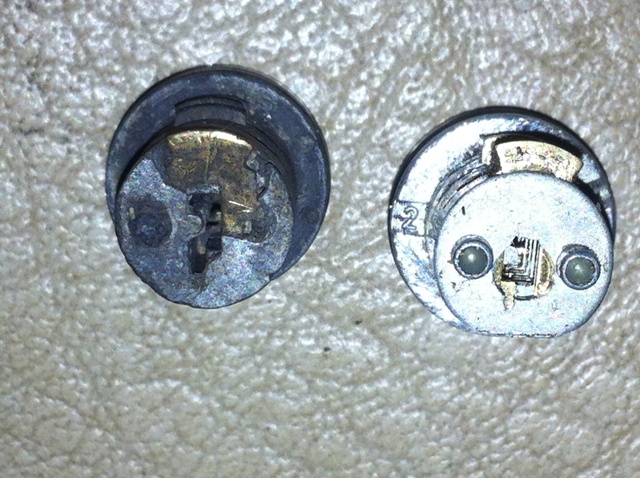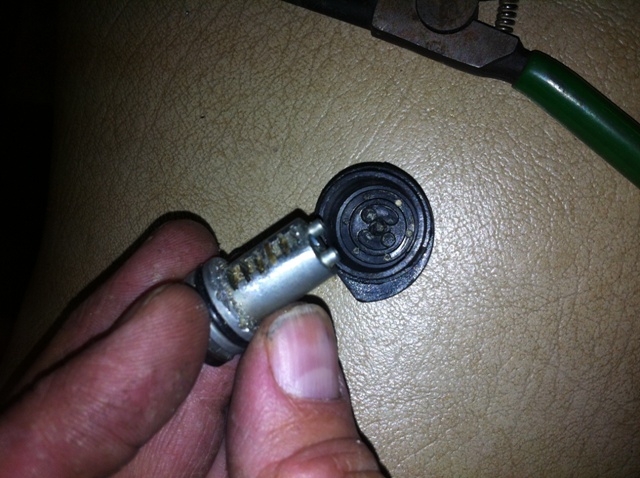 RE
Ok so getting at the parts....
with the tank open and the opening covered in case of dropped parts ....(if you have to force or drill the old lock out don't worry things cannot get through to the tank with the cap closed.) remove the 3 screws and carefully withdraw the plastic cover..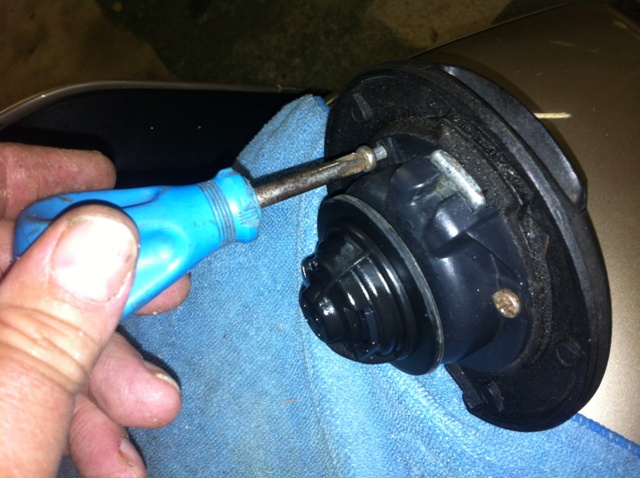 there are two springs in there, one like a biro spring which can fly so take care.
Next remove the barrel it is held in by the last tang (you need the key in the lock) push the tang in with a flat blade screwdriver and remove the barrell.
I did get keys with the replacement lock from motobins but I wanted it on the original key. The simple way to rekey it is to stick in your ignition key and file off any tangs that stick proud of the barrel. Be careful not to file the last one. A bench grinder makes this super easy but the tangs are brass and soft so it's a quick job.
Once your happy, press in the last tang (with the key in the lock) and insert it in the cap. When it's properly seated it should look like this...
next you need to replace the retrun spring in the cover, then the receiver cup, the latch plate and the biro like push spring that keeps the latch pushed out. It should look like this .....
There is a spring behind the cup that I omitted to photograph but where it goes (in grooves) is quite apparent.
At this stage you need to screw it all back together and test carefully. I found that testing it with just hand pressure instead of the screws didn't work.
There is surprisingly little movement in the latch but make doubly sure you are happy with everything before closing the cap.
I must say a big thanks to MotoSmith who sent me the plastic cup from California. I don't know the part number for that. Maybe one of the members who is good at finding them will post it up.
88KE
__________________________________________________
88....May contain nuts!
"The world is a book and those who do not travel read only one page." - St. Augustine from 1600 years ago & still true!
K1100LT 1992 - AKA Big Red
K1100RS - 1995. AKA Rudolf Von Schmurf (in a million bits)
K1/RS - AKA Titan (unique hybrid by Andreas Esterhammer)