Comberjohn
Life time member
Recently, every now and again, I had noticed what appeared to be a slight oil leak running down the crankcase cover from the bottom of the fairing.
Couldn't work out where it was coming from but as I was getting an occasional whiff of petrol, I assumed it was coming from a dodgy breather pipe.
Problem solved today when I discovered a blister in the paint along the bottom edge on the right hand side of the tank.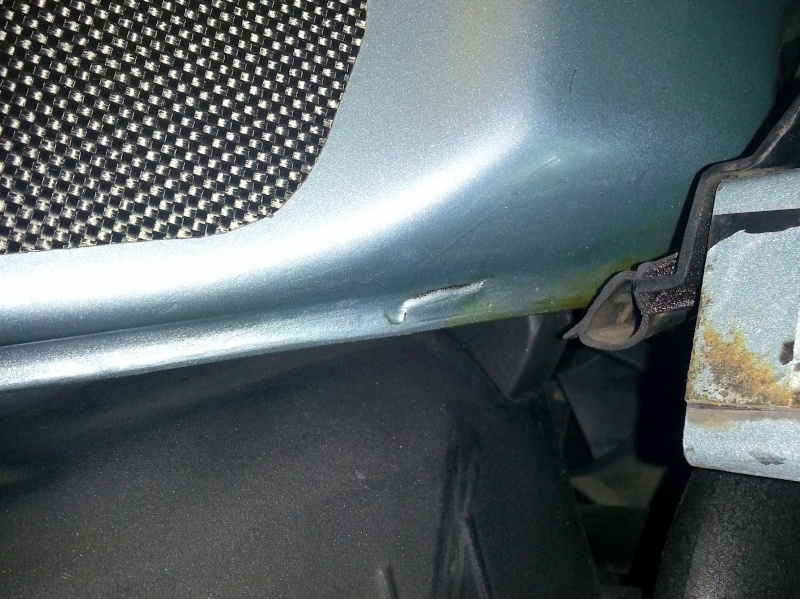 " />
Must have been a pinhole leak that only lost fuel when the tank was filled. Some fuel would leak out, run down to the lowest part of the edge and over the rubber seals on the fairing panel.
Then it dripped down on to the top of the crank cover.
Because it had melted the rubber a bit, it looked like an oil leak.
Had a fuel leak on my last K on the left side, where the fuel pump lives. Think its rarer on the right, but obviously not impossible.
If you get a whiff of fuel, check along the bottom edge for blisters in the paint. If you are far from home don't poke it!
It can turn into a big hole very quickly.
Easily fixed with epoxy putty.

__________________________________________________
Life is not a rehearsal.
2010 VFR 1200F DCT 
2010 R1200GS(gone)
1986 K100 Silver(gone)
2012 K1600GT(gone)
1984 K100RT Madison Silver(gone)
1989 K100LT Stratus Grey(gone)
1984 K100 Red(gone)