tinyspuds
Life time member
Good (insert time as appropriate) all,
I am getting down to the exciting bit of finishing the fuel related rubber bits replacement.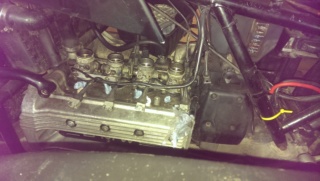 I knew the rubber would be leaky after it's 10 year stand in the open, but did the squirt carb cleaner at tickover test for before and after comparison. All pots reacted, from the plenum fitting to the crankcase flange, less so at number 4 and getting progressively worse up to number 1. So this wasn't really a surprise:
I got this far by detaching the 4 pairs of clamps below the plenum and then rotated the plenum left and towards the back. The front 2 inlets came off with the plenum, 3 and 4 stayed behind on the TB's.
This wasn't difficult but felt like there is probably a more elegant way to reinstall. I will also be replacing the manifold rubbers.
Q1. What is the recommended approach to reinstallation e.g. is it possible to assemble manifold through to plenum and reinstall as a unit?
Q2. I can't see any issues in the schematics but to be sure; is there any reason not to immerse throttle bodies and plenum chamber in degreaser  then carb cleaner?
Q3. A bit off piste but just came up. Obv. removing the throttle cable at the throttle end is straightforward atm. But would seem less so at the roadside with all the plastic and rubber back in place. My usual approach would be to create slack in the inner cable, grab it with pliers and free the nipple from the wheel. Not having much luck with that this a.m. - is there a trick/tip/technique?
I'm doing this job simultaneously with replacing radiator hoses, which will be the end of my "I bought a K" journey for now. Hopefully I have done enough to keep her going until my last planned rally in November...
Cheers all,
Stu

__________________________________________________
1985 BMW K100RT + Hedingham HUB and LL's. VIN 0028106.
1986 K100RS in boxes. VIN 0141918.
1954 Royal Enfield 350 Bullet. Original.
2000 Hayabusa with Charnwood chair, Wasp forks and EZS wheels.