KiwiK100
Gold member

As I move forward with the service and maintenance schedule on my recently purchased 40 year old K100C I looked pensively at the water pump cover and wondered what nightmare awaited behind it. Has the impeller even been upgraded? If I have to pull the shaft will it be pitted beyond use? If I leave it alone is a pump failure impending on the first good ride? So off with the cover it was. No, the impeller upgrade had not been done, so removing the pump it was. 
Having done this job a number of times I locked the shaft with an Allen key and prepared to go into battle with the rusty nut, only to have it fall off with the tip of the shaft snapped off and still inside the nut. The shaft was very badly corroded where it passes through the seal which is not surprising given its age but it's toast anyway so a new one in needed. The pictures tell the story however, with the condition of the seal well past it's use by date, and the surface of the impeller blades so rusty they have lightly scoured the face of the pump but I'm thinking a polish with some 0000 wire wool and it should be fine though. Any thoughts on this?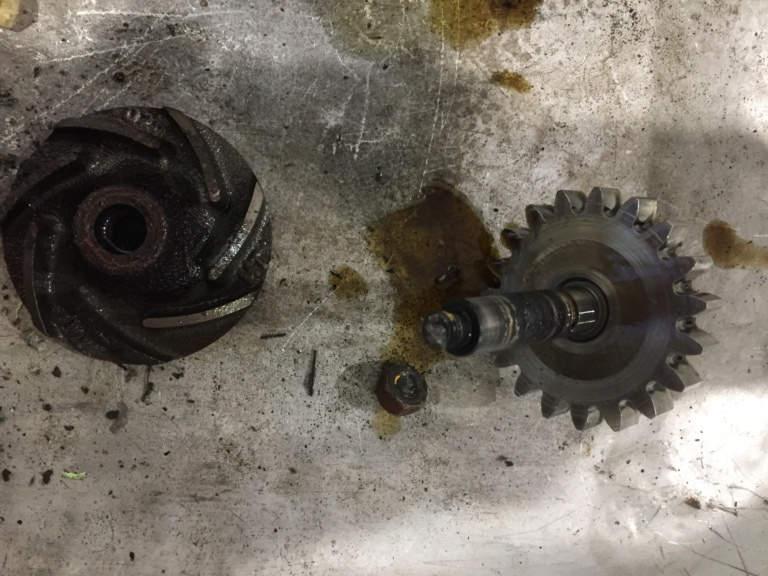 __________________________________________________
Current rides:
2020 R1250RS. Metallic black with all the fruit
1983 K100C. Red. Krauzer fairing.
1984 K100RS. Madison silver.
2002 K1200RS. Owned from new. Pacific Blue, Ohlins, Speiglers, Fiamms, HID. 186,000km SOLD 
1991 K1. Schwartz metallic black, 18 month frame off restoration. 74,000km SOLD 
1987 K100RS Style. Black, Ohlins, Race Tech springs, Braided lines. Fully restored. 53,000 miles. SOLD 
The family history:
1951 AJS 500 single - my Dads ride
1953 Triumph Terrier - my Mum's ride
1916 Triumph Type H, Battle of the Somme, France WW1 - my Grandads ride