Guest

Guest
I am currently plotting and planning to fit some wider wheels (well, on the rear, at least) to my K100RS. I've procured a set of wheels, one as-new, one second hand. I'm gunna have 'em painted gloss black in a coupla days, a week or so. I've got a nice set of radial Pirelli Angel ST tyres in 160/60ZR18 to fit the 4.5x18" 3 spoke rear wheel and a 110/80ZR18 to fit a rare as rocking horse poo 2.5x18" 3 spoke front wheel that came standard on later K75S models but were a little-used option on other models of the era. This is not a typical wheel/tyre combo as the bikes with an 18" rear wheel had a 17" front wheel, and mostly vice versa, except for drum rear brake K75 'plain Jane' models, if you think about it a mo'. I realise I'm treading (embrace the pun!) in some slightly new territory but this combo is not too far away from typical.
Today I had a chance to bolt up the rear wheel to see how it'd go on a non-Paralever rear end for which it was not intended by the factory. I was not surprised to see that the rear calliper would have to come off during wheel with tyre ingress and egress. The 140mm I've got now
just
fits the calliper to exhaust space that's there. I did not fit the tyre to the wheels for obvious labour-saving reasons. I was surprised to see that the 4.5x18" wheel slid right in with a whole heap of room on the swingarm side. It also clears the newer, narrower-looking K1100 centre stand I fit up a coupla weeks back. With the tyre mounted I see that
I might
have to use an additional 2mm spacer 'tween the final drive and wheel, but the current wheel bolts will be long enough. Here's a picture of the wheels as they are now.
In the end it'll be sorta like a K1100RS out back...and a wider wheel and tyre looks better to me, and we're hoping it handles better as well.
There are a few mm's
more
clearance from a 4.5" rear wheel (as compared to a 2.75" stock wheel) on the swingarm side and heaps of clearance on the exhaust side. There is probably some 'offset' built into this design. Slipping the
tyre in there without the wheel
shows it to haveenough clearance without an additional 2mm spacer, about like the stock wheel. The option of using that additional spacer is mine as I have an extra, but with my non-scientific look-see I don't reckon it's necessary.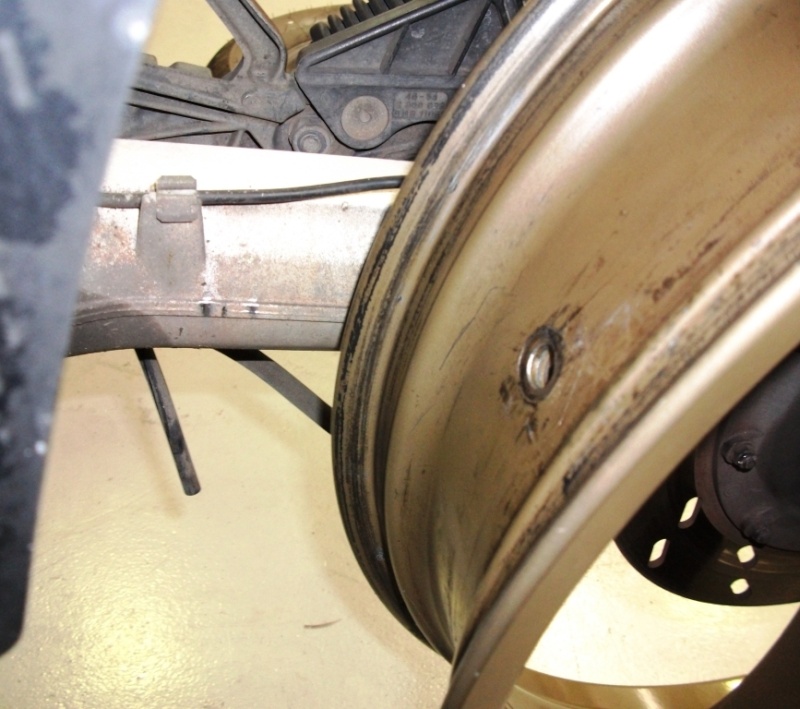 And on the left.
The front wheel is far less drama as it simply accepts my recently upgraded 292mm Suzuki brake discs with 8mm aluminium spacers on each the side of hub, mated to four piston Brembo R1100GS callipers and the K1100RS 20mm master cylinder. It's close to stock size. Let the games begin.


Last edited by Two Wheels Better on Mon Oct 03, 2011 5:41 am; edited 3 times in total